What advice does this talent and recruiting expert give to companies seeking to hire veterans?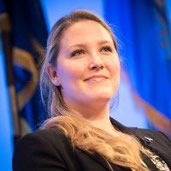 Amanda Veinott is a military talent programs expert who has helped over 30 companies across the United States develop programs to attract, recruit, hire, and retain top military candidates. She is now the founder of Miligistix, a full-service consulting firm specializing in designing, deploying, and optimizing all aspects of military and veteran recruiting, hiring, engagement, and retention. In this episode, we talk about the hiring process from both the employer's and employee's perspective.
---
Resources
You can find out more about Amanda and reach out to her through her LinkedIn.
Amanda recommended checking out Hiring Our Heroes for resources on employment for veterans, military spouses, and employers.
Find out more about the great work Amanda is doing at her company, Miligistix, to help companies improve their military talent programs.
---
Insights From The Interview
What are companies looking for when they hire veterans?

How can companies hire veterans the right way, and how you can tell if they're in it for the publicity.

What problems companies had when they started hiring veterans and how Amanda worked to fix them.

The importance of culture when evaluating company fit and how to do it.

What companies can do to improve their culture — stop looking for cookie cutter people and why it's worth doing.

"You are in the driver's seat of your career. Your choices are your responsibility. Don't follow a career path that doesn't make sense to you." -Amanda Veinott [click-to-tweet]

The importance of finding the right company — the key to retention for companies and loyalty for employees.

Taking a job based on fear backs you into a corner.

Are you a company that hires veterans? You're probably overlooking this resource that will help you succeed.

Use the headline and summary in LinkedIn to your advantage — make sure you mention your background to help recruiters find veterans they are looking to hire.

How military spouses can take advantage of LinkedIn.
---