How do you get yourself noticed in a world of top talent?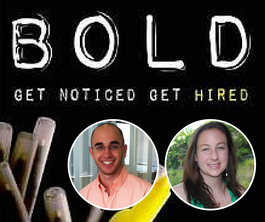 In this interview, I have two of the authors from Bold: Get Noticed, Get Hired, talking about the tools and techniques from their book that showed how people used creative strategies to get their resumes out from the middle of the pack to the top. Melanie Feldman is a Digital Media and start-up enthusiast from Honolulu, Hawaii (aloha!). She is a Sr. Supply Operations Manager at Undertone in NYC. Joshua Siva is a Procurement and start-up professional from Buffalo, NY. He is a Regional Category Manager at GlaxoSmithKline in Toronto. These co-authors joined me for an awesome episode diving into why they wrote the book, their favorite case studies, and how it can help YOU get noticed and hired in today's competitive hiring market. 
---
Insights From The Interview
Don't be afraid to put yourself out there. 

Why it's so difficult to get past the gatekeepers when you're submitting resumes the traditional way.
Why you're resume might not get through, even if you're the perfect fit
Why getting creative and taking control of the process is the best and only way for you to control the application process.
Why even if a company posts a job, they might have no interest in ANY of the applicants.
Why you shouldn't ask for the job when you're connecting with people for the first time — even if that's your intent.
Get your LinkedIn profile to All Star — it'll all come back to that if you start getting noticed.
Making it easy for people to write recommendations — make sure they know what you want highlighted.
How to think of yourself as a brand.
Make sure you're portraying yourself in the right way on social media.
Target people outside or HR to get your foot in the door and avoid the gatekeepers.
Getting creative can also mean who you contact, not just how you do it.
Resources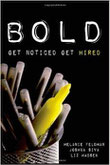 Shoot Josh and Melanie an e-mail to get a job search course for free or sign up on their website.They'll give you a step by step guide to using some of the strategies they talk about in their book.
Pick up your copy of Bold: Get Noticed, Get Hired.