How did this veteran go from being a waiter to leading Disney Resorts and running his own business?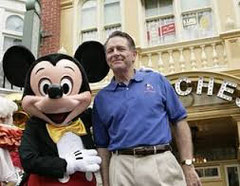 Lee Cockerell is a US Army Veteran and the Former Executive Vice President of Operations for the Walt Disney World Resort. One of Lee's major and lasting legacies was the creation of Disney Great Leader Strategies which was used to train and develop the 7000 leaders at Walt Disney World. He is a bestselling author of three books, his most recent being, Time Management Magic: How To Get More Done Every Day And Move From Surviving To Thriving. Lee now runs his own consulting and seminar business in leadership and management development and he's a a mentor at Thrive15.com an online education platform that helps entrepreneurs learn how to start or grow a successful business. And, he is a superstar grandfather and husband.
Insights From The Interview
What skills did

Lee

 develop from the military that helped you achieve success in your civilian career?

What skills did Lee have to learn to continue your success?
How did Lee deal with depression?
How did Lee become a better storyteller and public speaker?
What are Lee's keys to success in any career?
What time management tips did Lee use to achieve success in his career and life?
Why did Lee Thrive15.com as a mentor and how can it help veterans?
Resources