This veteran passes on best practices on entrepreneurship through the Command Your Business Podcast.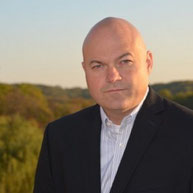 Scott Fussell created the Command Your Business Podcast to focus on Military Veterans who have become or want to become Entrepreneurs. Prior to this venture, he spent 4 years in the Army ROTC program at the University of Tennessee, graduated as a Distinguished Military Graduate, and was commissioned as a Second Lieutenant in the United States Army. Scott spent the next four and a half years serving as a Tank Platoon Leader, Tank Company Executive Officer, Battalion Maintenance Officer, and Assistant Operations Officer. Since leaving the Army in 1999 as a Captain, he has worked with Global and Fortune 500 companies in a variety of roles to include Six Sigma Master Black Belt, Plant Manager, and Marketing Manager.
Insights From The Interview
What is a mastermind and how can it help you succeed?
What's your unfair advantage as a veteran?
How to be a team player and get ahead in your career.
What you can do to set up career moves within your industry.
How to promote yourself in a positive way.
How to set up your mastermind to get the most value.
Find courses and programs directed towards veterans -- a lot of these are free!
Resources
Books mentioned in the podcast: