Fellow veteran John Reeves interviewed me on his radio show -- find out my musing from my journey after the military.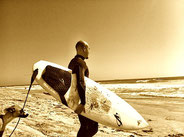 I get the tables turned on me. This episode is a radio segment that I was on with a fellow veteran out in San Diego, California. John Reeves hosts a show called Military Mondays on KCBQ 1170 AM and he invited me to talk about SuccessVets and what advice I'd give after interviewing so many successful veterans. My thanks goes out to veterans like John promoting veteran causes...now check out what I said!
Insights From The Interview
What are the biggest challenges that veterans face in the job market?

What are some advantages veterans have when entering the job market?
It's been about a year and a half since you left the military. If you could go back, what advice would you give yourself?
What are some of the lessons that you've learned from the guests on your show about life after the military?
Networking is an important aspect of transitioning that isn't covered as much in transitioning classes. What tips do you have for veterans to network effectively?
Resources
---