This veteran is bringing military members together in their communities and neighborhoods...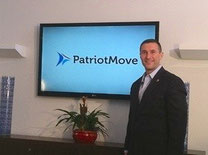 Greg Call served four years in the United States Marine Corps as a Ground Intelligence Officer and deployed to Afghanistan and Africa in support of Operation Enduring freedom. Prior to the Marine Corps, Greg worked in corporate management consulting and is a Certified Public Accountant in the State of Michigan. Since leaving the military, Greg has focused on creating employment and entrepreneurship opportunities within the post 9/11 veterans community. He is a Program Manager for Transition Edge, a veteran transition program focused on veterans seeking a career in accounting, finance, HR, or technology. And today, he is the founder and CEO of PatriotMove, an online military community and resource providing support and relocation services to the service members.

Insights From The Interview
How do you reconcile leaving the best job you know you'll ever have?


Before starting a business, dive deep into the community that you want to serve to understand the problems you want to solve.

Build your network before you need it.

Take advantage of free or discounted resources for veterans in entrepreneurship, education, and employment.

Take your time — no reason to jump into anything right after the military, especially if you have some cushion financially. Early mistakes will hurt you more than patience.

Understand the difference in priorities in the civilian sector, especially when hiring and building a team.

Leadership lessons to live by: always be yourself,  suffer with your team, and never ask of them anything you wouldn't do yourself.

Work in the industry of the business you want to start to gain knowledge. 
Resources

---