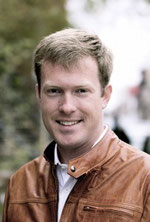 What are veterans doing on the cutting edge of technology and entrepreneurship?
Brian Jaffe graduated from Princeton University in 2006, majoring in Mechanical and Aerospace Engineering. In the fall of that year, he commissioned as a Surface Warfare Officer in the United States Navy and over the next five years, he served on the USS Fitzgerald, completed Naval Nuclear Power training, and operated nuclear power plants onboard the USS Dwight D Eisenhower. Brian left the Navy in 2011, taking some time off to travel and shifting his focus to entrepreneurship. In 2012 he began an MBA program at the MIT Sloan School of Management but decided to leave after completing one year to work full time at his startup. Today, Brian is the co-founder and CEO of Mission St. Manufacturing, a 3D printing startup located in Santa Barbara, CA. The company is launching it's newest product, called Printeer, in mid-2014, which will be a low-cost, easy to use 3D printer for kids, families, and K-12 education.
Insights From the Interview
Build products for customers you really care about.
Take some time off to "destress" from the military and to give yourself the ability to gain clarity on what you want to do.
There are some options to consider when starting a certain type of business — some include going to business school, outright starting the company, or getting a job in the industry.
The right business school program gives you the opportunity to fail as a student when the stakes are not as high as running your own company.
 One skill from the military that transfers to being a startup CEO is being able to handle what's being thrown at you.
The job as CEO is like being a division officer — you have to empower those around you.
Knowledge of finances (budget, accounting, investments, even vocabulary) is generally a gap coming out of the military.
Gather support from your friends and family by clearly expressing what you want to do and why .
Don't forget the importance of geography as the nexus of your network.
Stay connected with the military community in your organization, such as veteran's clubs at business schools.
Read up on your passions!
Don't be shy about reaching out to other veterans -- they want to help you succeed.
Resources
---